It's been a month since the company I work for moved to a new location. To say that the new place is different from the previous digs would be a serious understatement. The place is completely devoid of natural light and color. The decor of the new place is
an incredibly boring
a soothing palette of tan, gray, and slightly darker gray. But the building does have some interesting features.
Witness the Door to Nowhere:
The smoking area is right next to the fuel tank for the generator. So the "Designated Smoking Area" sign is literally less than 5 feet from the sign that says "Danger - No Smoking".
The file cabinet drawers have combination locks on them. Not so strange

per se

, but the locks are positioned in such a way that you have to open the drawer to get to it. So you have to be able to open the drawer in order to unlock and open the drawer. Brilliant.
At least the view out the front isn't too bad:

Plus, see what's spray-painted on the front sidewalk, with arrows pointing to the building: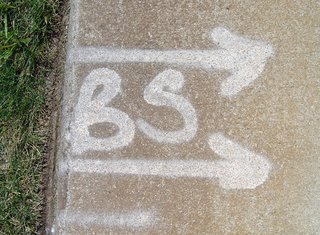 Hmmmmm.....


[Listening to: "Walking After You" by Foo Fighters]